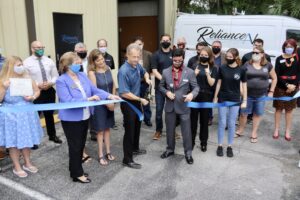 On September 15th the Seminole County Chamber organized a grand opening ribbon cutting event for us.  Wow!  What a great day of support and new connections!
There were some great technology solution demos.
Direct View LED displays.  Indoor and outdoor LED displays featuring several types tailored towards installation in house of worship, gymnasiums, and corporate interior settings.
We shared some delicious food, invited folks to sign our chalkboard wall guest book & introduced guests to our team (Chet, Rhonda, Eddie, Zane, AJ & Ashley ).  It was a perfect day!
We have lived in Seminole County for over 30 years.  For the past two decades, it seemed like the audiovisual projects were out of town more often than not. We are ready to make ourselves known in our own backyard, support our hometown community. We are committed to being Seminole County and the Greater Orlando area's premier Commercial Design and Install AV Provider.
Welcome to RelianceAV – our doors are open! #AskChet