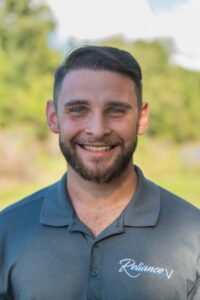 We are so pleased to welcome Zane Henning to the RelianceAV family. He's a natural fit since he feels like part of our own family.  Chet met Zane at Lake Brantley High School where he's been mentoring students in tech theater for over eight years.  Zane was a student and ran lights for his church (Emerging Church) which rents the LBHS auditorium for its services.  Chet and Zane really hit it off, both having a love for the tech and weird senses of humor.  Zane spent two summers as a paid intern for Chet at his previous integration firm.  In that time, he learned a lot about this exciting industry, made some great friends, and realized being in the ceiling of a church for hours on end in the summer is HOT, but the result was really rewarding. He was very willing to learn and more importantly, to be taught.  He pulled his weight, the standout intern both years.
Zane's first love is the ministry and ministering to youth.  He's been heavily involved with the Fellowship of Christian Athletes for many years.  The Emerging Church has given him many opportunities to learn, grow, nurture his faith, witness and even preach.
Zane is a kind, honest, warm soul, all the qualities that foster long standing relationships.  We are very pleased he will be representing our company in the position of Sales Consultant with a focus on our House of Worship vertical.